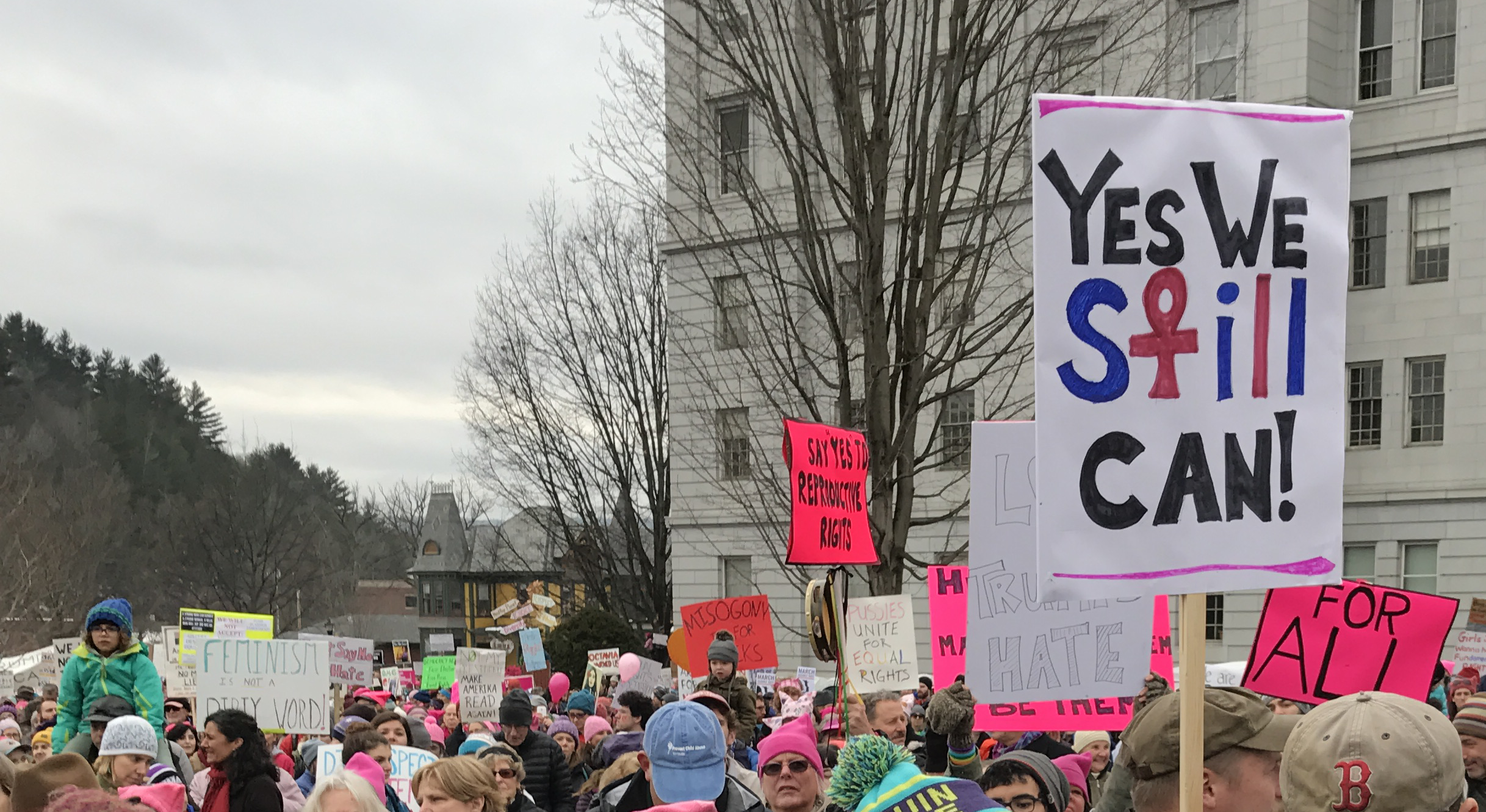 This past Saturday, at least fifteen thousand people marched through downtown Montpelier, Vermont, in the name of women's rights, human rights, compassion, unity, and equality. I was among the thousands who sloshed through mud puddles and climbed over snow banks, each one of us determined to stamp out hatred and bigotry.
I'm not one for crowds, especially large crowds; if you have an anxiety disorder, like PTSD, you know what I mean. But I packed my Xanax – just in case – and drove the 40 miles with my step-daughter (thank you Rachel for being there with me) from Burlington to Montpelier, waited in five-miles of backed up traffic on the interstate before making an illegal U-turn (I can't tell you how good it felt to break the law!) so we could exit onto an alternate route leading into town, then parked a mile from the state house. From there, Rachel and I took our first steps toward the center of inclusivity: the golden-domed state house.
Montpelier may be the smallest capital in the nation, but our voices here in Vermont are far from small. Yesterday, as we marched together, thousands waved signs reading, "Yes we still can … We should all be feminists … We the people … complacency is complicity." We sang and chanted and shouted against oppression and injustice. We spoke out loud for what is right: helping the homeless and the poor, treating with dignity women, people of color, Hispanics, Jews, Muslims, gays, LGBQTs, the young and the old. And the disabled.
I give the disabled a sentence of its own, not because I believe they're superior to others; I do so because I know too many disabled people, mostly those who have sustained traumatic brain injuries (TBI) and are now living with chronic side-effects, such as vision difficulties, chronic anxiety, sleep disorders, and rip-roaring headaches. Due to their injuries, some find it difficult to engage in substantial gainful activity, a social security disability insurance (SSDI) term meaning your medical condition prevents you from doing more than "insignificant" work. And if your disability prevents you from working twenty hours or more a week, the typical threshold for receiving employer-based benefits, this likely outcome is this: no health insurance. With the enactment of the Affordable Care Act, though, those with disabilities had options, and they didn't have to worry about being discriminated against for having a pre-existing condition (a TBI for instance). The ACA offered increased accessibility to community health centers, and enacted a provision that axed annual and life time limits – a godsend for people with disabilities. For those who receive SSDI and Medicare under the program's guidelines, they are (or should I say "were?") protected.
But it's 2017, and winter has arrived. "He who must not be named" plans to eviscerate the ACA, with no alternative other than the ambiguous executive order he signed just hour after he was inaugurated directing federal agencies to relieve individuals, state governments, businesses, and health insurance companies from "burdens" placed on them by the ACA.
Whatever that means? In the meantime, there are nearly 50 million people in the U.S. who have a disability, and about 8.8 million who receive SSDI benefits. Though "he who must not be named" promises Medicare for All, this is sheer talk from a man who, well, likes to talk. And, of course, "he" has to deal with the Republican controlled congress. What do the millions receiving Medicare under SSDI benefits – and those sixty-five and older – have to look forward to?
I wish I had a magic wand to make it all better, but I don't. Yet, I do have my voice. I share my voice with you, sing and chant and cheer for you, keeping in mind the words that Martin Luther King Jr. spoke in 1965: "Our lives begin to end the day we become silent about the things that matter."
The more we speak, the louder we speak, "about the things that matter," the closer we come together, marching forward toward human progress and shaping a world in which every single one of us matters.
Read More